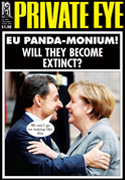 Copycat Bastards
I Blame Hislop for nicking my ideas
I mean he hasn't denied it!
Recently, the satirical Private Eye magazine did a piece on
PANDA POLITICS
. This magazine is the scourge of the tabloids, spreading malicious LIES about hacking - as if the press would ever do such a thing and even if they did it's polite not to mention it, "here, have you seen the pics where
Posh gets her baps out
?"
Now that my readers are suitably distracted, Private Eye magazine has defamed Panda's by associating them with the dark arts. So let me state for the record, Panda's do not do any politics, let alone Realpolitik. This scurrilous story by the Pirates in the Eye completely ignores the Total Zen nature of Panda's and that they cannot be arsed. Do they serious expect us to believe the lies they publish or have they been eating funny mushrooms like
Doug and Jim from Neighbours
? How else can we explain this:
The

less than cute

reality behind the arrival of Sweetie and Sunshine at Edinburgh Zoo (it involves more fish farm pollution,

increased salmon exports

and vengeful action against a Chinese dissident).
This is total conjecture, based upon hearsay and besides Salmon is wanted by the Panda's in China [contrary to popular belief they do eat more than just bamboo]. This is a Cultural Exchange through the digestive system. I have explained this before and we do not need this sort of thing in the run up to
Christmas

which

drains our innate happiness
. Christmas is a dark enough time as it is, without profuse amounts of alcohol, we would soon realise how bloody miserable the festive season is and ban it entirely! But you cannot ban Panda's forever, so since Satan Christmas has a Panda inside him we cannot ban Christmas. That is why the banker plot to assassinate the Northern Terrorist and flog the stuff at Cash Converters is not just wrong but unethical - even by their standards. We have to Reclaim it from the grubby hands of Panda haters and the forces of commercialism. The earth needs us to save Panda's to save ourselves. This is why China has not eaten all the Panda's in the world. That shows incredible gastric restraint, which is not very Panda like - they don't hold on to shit but release and move on. No other sentient creature goes through so much shit in their lifetime, although...
others do not possess inner Zen. Behold:
China won't eat these Panda's.
Private Eye did at their Christmas Party*
*according to dipping sauces