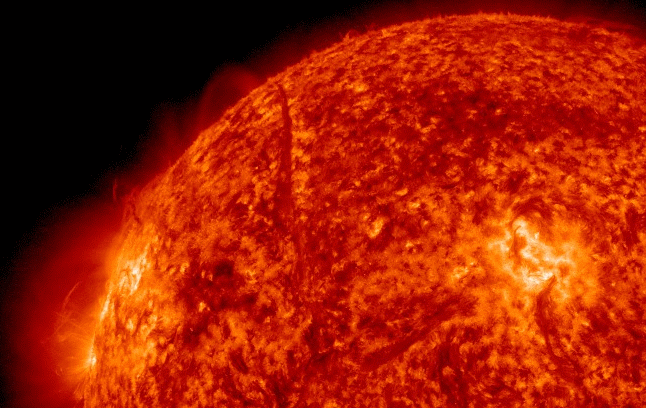 The Sun[newspaper] has decided to desecrate* the holy day of Sun[day] shopping by covering it in shit. The Sun[god] was very unhappy with this and made it's displeasure known at the sacrilege;
A magnetic filament snaking over the sun's northeastern limb rose up and erupted during the early hours of Feb. 24th...The eruption split the sun's atmosphere creating a "

canyon of fire

"

The glowing walls of the canyon are formed in a process closely related to that ofarcade loops, which appear after many solar flares. Stretching more than 400,000 km from end to end, the structure traces the original channel where the filament was suspended by magnetic forces above the stellar surface.
Previous Edition of Rupert Murdoch

As erupting magnetic filaments often do, this one launched a coronal mass ejection (CME) into space. The Solar and Heliospheric Observary recorded the expanding cloud: movie. UPDATE: At first this CME did not appear heading for Earth. However, a new analysis by forecasters at the Goddard Space Weather Lab shows that the cloud will indeed hit Earth's magnetic field on Feb. 26th at 13:30 UT (+/- 7 hr): animated forecast track. Geomagnetic storms are possible when the CME arrives.
* Before the ugly truth has come out and as the wall of secrecy and deletion crumbles around his decrepit empire, the Antipodean Beast appeared to have the Midas Touch. This should not be confused with the Dubya Touch, which could either be one of the great money laundering scams of all time or a level of incompetence beyond even that of governments entrenched in their own political graves Now the
psychedelically spiked
miasma
has drifted from the nostrils and the slow repulsive recognition comes to fruition as we realise we have been smelling not roses, or even the pungency of manure that roses are grown in , but the stench of long rotten corpses.
Like many kings, the Beast has his Heralds such as Andrew Bolt, who was described by a Judge no less as
"at worst dishonest and misleading and at best, grossly careless. It reflects upon him as a journalist."
The way of the craven, the psychopath - who has no sense of guilt or shame, who is willing to fabricate at every level and then lie to cover up no matter the consequence to other human beings or their own flesh and blood - has been described through the ages as evil. Some have made overt references to lizard like qualities
However sometimes a certain bluntness of speech is required, by repeating what these soulless bastards have inflicted upon the children of our planet - as aptly told by the media jury of their piers;
Is it really any wonder why the Sun[god] sent us such a message when the lizard embodiment of pure evil walks amounts us?