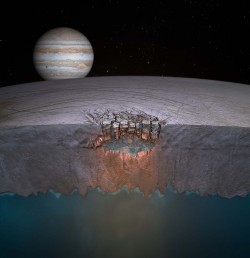 Texan sources released this image and said:


'Is this what Europa has planned for us?'




'Does Kevin Costner still own the film rights?'



Actually they said this:


Europa's "Great Lake."


Researchers predict many more such lakes are scattered throughout the moon's icy shell.
Credit: Britney Schmidt/Dead Pixel VFX/Univ. of Texas at Austin.
But do not be fooled. Atlantis is the ancestral home of the
Kraken
. We do not know what they are summoning so far from the warmth of the Sungod.